It genuinely feels as though I have not been able to talk to you all in a millennia. The amount of space needed during these last three months have been exhausting to say the least. However, it is always refreshing and a lovely feeling being able to write again, on what I thought as my one way to escape during a certain period of my life.
Things have been different in terms of how I've had to shape my life now. But hopefully this all good for the end result.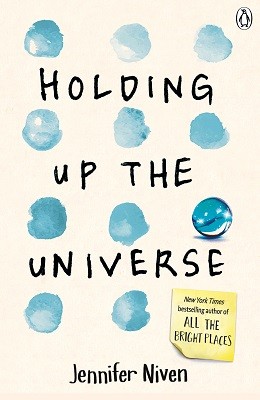 So, to start off the new year with a bang, why not review a book that I finished on the last day of 2016?
'Holding up the Universe'
is about two specific people during high school, where they have to encounter problems concerning the way that they both are, as well as how they are able to overcome it, it terms of acceptance as well as getting help from the people that they love.
It tells of the story between the two characters Libby and Jack, who, not only have the problems of acceptance as high school students, face the prospect of one of them once being the world's fattest teen, to the other who was going through face blindness by themselves.
This story is truly a life altering book of what we should see in society as what we accept and how these ideologies are then placed onto the generations of upcoming teens. But also it evaluates the aspect of there being people in this world who believe that they should face their hardships alone, rather than speaking out and seeking help. If people in this world would be able to accomplish these few things, the world would be a much better place. Not only for the people who are already having to face their demons, but also being able to give enough relevance to informing the younger audiences as to what society can offer rather than assume.
*****